The Pear, on Mountain View's La Avenida Avenue, has once again brought timely entertainment to Silicon Valley's theatre going public. Daniel Zafer Joyce is brilliant Robert Chilton who has solved the conundrum of high birth and low wealth by translating insider knowledge obtained through high position into the source of a fortune. Zafer-Jones rides the emotional heights and depths of a script, ably directed by Jenny Hollingworth, with masterly poise A letter left behind provides the plot device to set a minuet of blackmailing and counter black mailings in motion that force the members of a corrupt elite to admit to themselves that they have feet of clay while maintaining an omniscient display of probity and power to the rest of the world.
Ellen Dunphy is the implacable foil to her husband, displaying hauteur without limit until being forced from her pedestal to acknowledge his deceit while nevertheless condoning it in a display of marital and class solidarity. Aaron Weisberg is superb as Lord Goring, a self-indulgent noble scion whose vocation is to fart self-deprecating verbal paradoxes while protecting his bosom buddy. Cindy Weisberg's Mabel effectively portrays the traditional female elite role of marriage to a class peer. Kelsey Tresemer is transcendent as Mrs Cheveley, the personification of guileful intrigue. Tom Farley steals the show as doddering Lord Claversham, up holding conventionalities in word and deed while seeing his playfully errant son through to his destiny as family man.
Living Our Own Victorian Period
Why are we so fascinated by the Victorian era, the mise en scene of Oscar Wilde's biting critique of a corrupt elite that protects its members at all costs? Perhaps, because of its relevance to contemporary US society, mirrored in this Victorian image, with rising class divides expressed in a cavalier attitude to the rest of society taken into account only as a dutiful supporting cast, following their betters even against their interests.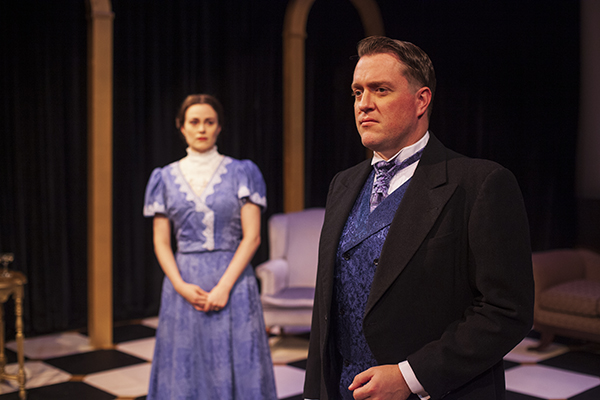 In this morality play that is an epic of immorality, Wilde depicts a series of events that should portend the downfall of an immoral personality but instead resurrects him, albeit infused with a sense of his imperfection, now shared by those who formerly looked up to him as a sacred icon. Scarcity lost, privilege persists nevertheless. When the British Empire was at its height of global power, its political elite exuded an irrational confidence that they could cover every flawed judgment and action with a bravado and poise that persists to this day. Silicon Valley's tech elite exhibits a similar complacent habitus, presuming the inevitability of their ruling ethos, under differing circumstances, even though clothing style and personal mannerisms take a different guise, they act as to the manner born. In the contemporary UK case, the role model of corrupt leadership is personified by Boris Johnson, the new British Prime Minister. Despite, or perhaps because of his bald-faced untruths in promoting the UK's departure from the European Union, he has been seen through to residence in number 10, a highly possible outcome for Wilde's prototypical character, as well.
A Theatrical Farce of Relevance
Why do some politicians, like a former Minnesota Senator, disappear at the merest hint ofmoral lapse, while others, like Donald Trump, are reinforced in the face of great scandal?
Before "white privilege" there was economic and class privilege and, of course, they are inter-related. The "ideal husband" in this Wildean send-up of the British upper class is no ideal at all but merely an ordinary man, placed in a high political position, demonstrating the resilience of a hereditary upper class. He is able to take full advantage of his social position to maintain andenhance his status, despite severe moral lapses. Does this tale of impending fall sound all too familiar? Has inevitable fate been upended or merely delayed?
Wilde's "Perfect Husband" resonates into our era in its hilarious take on the fraught manners and morals of a ruling caste. If not a radical take-down of that elite; it is an exposure of their follies and foibles that delegitimitates their presumption to rule. A Machiavellian set of guidelines to a Prince on how to rule is subverted by a depiction of the ruler in practice as no more or less virtuous than an ordinary person, indeed one likely to be less fit to govern than any of us. This is the meaning and message of Oscar Wilde's pre-Brechtian political tract in the guise of a post-Restoration comedy of manners and morals.
More about the Pear Theatre
Photos: Courtesy of the Pear Theatre