The Highland Park Players have been enriching, educating, and entertaining North Shore audiences for 32 years and finally, on Sunday, September 15, 2019, I had the delight of seeing their outstanding production of MAMMA MIA! at the Northbrook Theatre, 3323 Walters Ave. in Northbrook. This is a delightful, beautiful, and moving production, not to be missed. There are only four more opportunities to attend: Sept 20 and 21 at 7:30 PM and September 21 and 22 at 2:00 PM.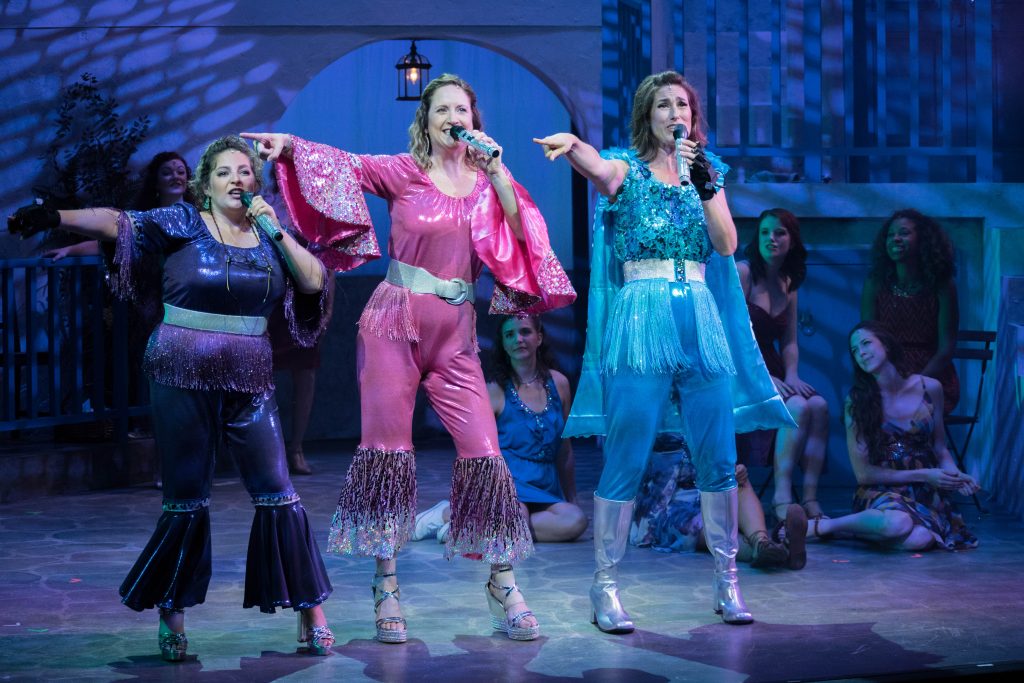 As my guest and I were exploring the Northbrook Theatre space, we began chatting with a lovely woman who was selling snacks and bottled water. She assured us that we would love the performance. She said the set was terrific as were the costumes, the music and the performers who were multi-talented. She was right on.
Conceived by Judy Craymer, with book by Catherine Johnson, and lyrics based on the music from ABBA composed by Benny Andersson and Björn Ulvaeus, the original London production of MAMMA MIA! premiered in the West End at the Prince Edward Theatre on April 6, 1999
The story takes place on a small Greek island where Sophie dreams of a perfect wedding — one that includes her father giving her away. The problem is that Sophie doesn't know who her father is. Donna (Hannah Rose), Sophia's mother, is the former lead singer of the 1970s pop group Donna and the Dynamos, and she refuses to talk about this topic. Wanting to find her father, Sophie takes drastic action. Peeking into her mother's old diaries, she notes three possible fathers: Sam, Bill, and Harry. She sends wedding invitations to all three and hopes they will come. She is sure that she will know her father when she sees him. Will she?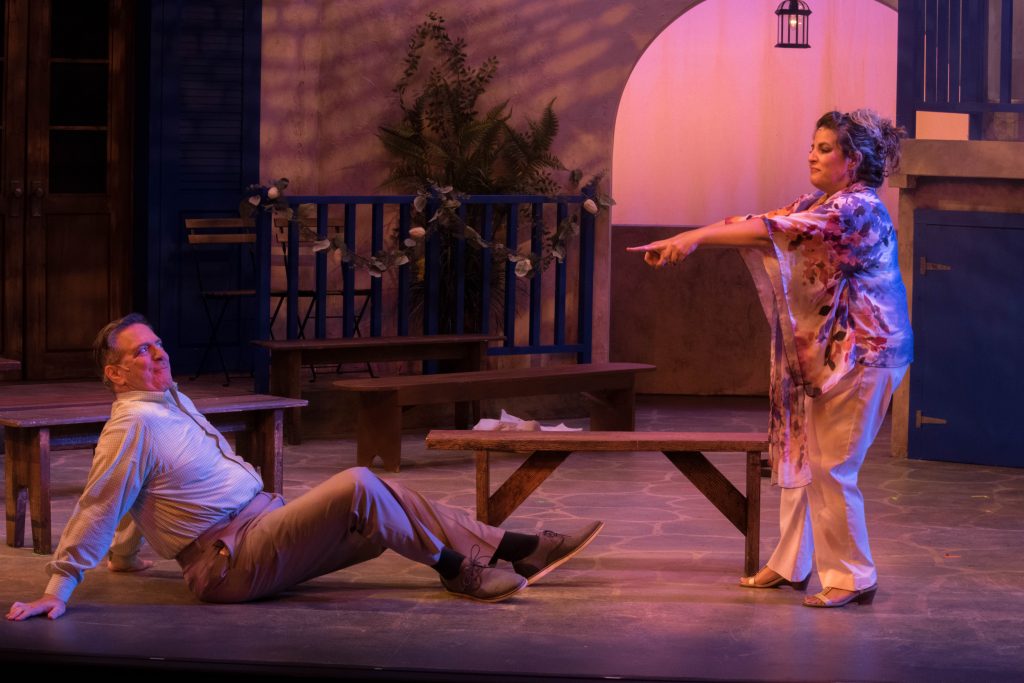 The casting was perfect. Hannah Rose as Donna was versatile and compelling and especially sympathetic interacting with a very convincing Sophie (Emma Widlowski). All the cast members inhabited their roles. The voices were wonderful as was the live music. The set was breathtaking as were the costumes and the dancing was over the top. The cast was clearly having a wonderful time but I think the audience had a better time, still.
I had the opportunity of speaking with Taryn Skoda who said she was new to this company but was impressed by the level of cooperation and support by the entire production staff.
MAMMA MIA!  is Directed by Jeff Award Nominee, Courtney Crouse, choreographed by Jeff Award Winner, Jenna Schoppe and Music Directed by Ken Preuss. The production stars Hannah Rose as Donna, Emma Widlowski as Sophie, Alexis Armstrong as Tanya, Angela Carrington as Rosie, Kevin Kirkpatrick as Sam, Geoff Isaac as Bill, Mike Weaver as Harry, Levi Skoog as Sky, Taryn Skoda as Lisa, Katrina Rautanen as Ali, Tyler Sonkin as Eddie, Brent Walker as Pepper, and Peter Rasey as Father Alexandrios. The ensemble features Todd D. Bulmash, Dana Clouser, Naomi Hershman, Henry Gessner, Myrrh Gobenciong, Alex Iacobucci, Kyle Kite, Justine Klein, Sarah Makkawy, Mandi Soos, Betsy Sorensen, and Ella Walker. 
"MAMMA MIA! is one of those musicals where you just want to get up and sing and dance along to the music and I guarantee you will leave with a big smile on your face," says Bradley A. Rose, Executive Producer and Board President. "With the memorable music, Broadway-style dance numbers, and vocals that are just amazing, you will be blown away by this production." I completely agree.
The production team includes Bradley A. Rose (Executive Producer), David Shaw (Producer), Naomi Hershman (Producer), Courtney Crouse (Director), Jenna Schoppe (Choreographer), Ken Preuss (Music Director), Erin McDermott (Assistant Director/Stage Manager), Martha Shuford (Costumer), Mike Patrick (Sound Designer), Lauren Nichols (Scenic Designer), Alec Kinatowski (Lighting Designer), Matthew Zalinski (Assistant Stage Manager/Props), Kurt Ottinger (Theatre Tech Director), Marty Karlin (Rehearsal Accompanist), and Jacob Cohen (Marketing and Publicity).
All tickets are $25 in advance and $30 at the door. To purchase tickets, please go to Highland Park Players or call the Northbrook Theatre at 847-291-2995.
Photo Credit: Horizon Photography