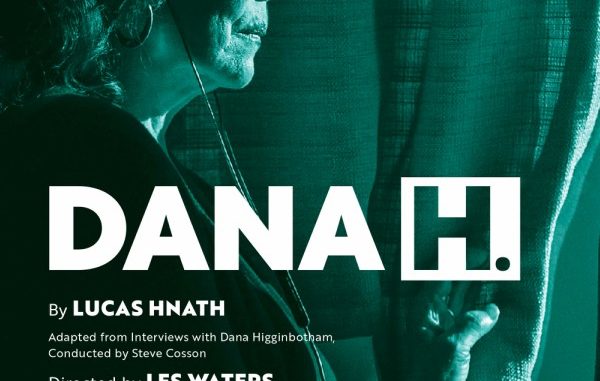 Playwright of the Moment (and, perhaps, for a considerable duration after that) Lucas Hnath's new play, Dana H., now in its world premiere at the Goodman Theatre, co-produced by Los Angeles' Center Theatre Group, and directed by Obie Award-winner Les Waters, is not what you're expecting.  How do I know what you're expecting?  Well, I don't, but I can guarantee it isn't Dana H., one of the most sui generis theatrical presentations any of us are likely to encounter.
Dana H. is the true story of a harrowing 5-month period in the life of the playwright's mother, Dana Higginbotham, when she was kidnapped and held captive by a mentally ill, Aryan Brotherhood ex-convict (that's quite the scarifying trifecta) who beat her, raped her, and held her against her will in a series of seedy, and sometimes blood-soaked, hotel rooms. 
Dana Higginbotham, a hospice chaplain, encountered this ex-con, identified only as Jim, in a psych ward after an especially sanguinary suicide attempt on his part.  He knocks her out with one punch and physically and psychologically controls her, as Higginbotham herself recounts in her own words through an interview conducted by Steve Cosson that is the only dialogue heard in the play.  Meanwhile, the actor Deirdre O'Connell, the only major performer who is actually seen on stage, ventriloquizes Higginbotham's words by lip-syncing to them – every word from the beginning of the performance to the end (though the interview transcript itself has been edited by Hnath). 
It sounds gimmicky; it is not – it is eerily effective, largely due to O'Connell's facility in literally embodying Higginbotham's experience, simultaneously creating an artifice and, paradoxically, making that artifice more visceral and more real.  And if you think that an actor lip-syncing to someone else's words makes a performance "easier," it most assuredly is not.  One mistake in timing or rhythm, one cough or throat-clearing, and the spell will be broken, and the entire performance thrown off track. 
The good news – and this riveting play and performance has plenty of good news – is that what at first seems like nothing more than a visualized podcast turns out to be a deeply affecting drama that approaches a difficult subject matter from a sidewise perspective that works exceedingly well.  O'Connell demonstrates better than any acting lesson conceivably could what is meant by the phrase "an actor's body is her instrument" as she turns herself into an incarnated Other, a vessel for the pain and perplexity of another human being and thus, in miniature, a metaphor for theatre itself, in its constricted, stage-bound power to transmute and transmit the feelings of one or more real or fictional persons to a willing and much-wider audience.
The play's potency is never diluted by po-mo sleight of hand; in other words, we never are led to believe that, for example, Hnath's mother is a fictional or at least partly fictionalized creation of Hnath, or that the recorded transcripts are of anyone other than his actual mother, Dana Higginbotham, or that those transcripts have been edited in a deliberately deceptive manner.  As a result, this chilling theatrical piece, a sort of Lord of the Flies for contemporary audiences, will likely shake you to your core as you contemplate just how thin the floor of civilization is underneath all of us, and how easily a trap door can open up under one's feet and send a person careening into a demi-Hell of drug dens, filthy motel rooms, assault and abuse.
There is a fly in this modern-day "Fly," however.  Almost from the beginning of the play, there are odd little snags in Higginbotham's narrative, some second-hand (in other words, things Jim told her, or bragged about to her, that don't quite ring true) and some first-hand that could be chalked up to the effects of PTSD and brain trauma, the passage of time, or Higginbotham's conscious or subconscious decision to either soften or embellish (or sometimes soften and sometimes embellish) the details of her ordeal.  Without giving away too much, I was left wondering, for example, just how much blood a person can lose by slashing both carotid arteries and both wrists and still survive to subsequently terrorize others.  There are other oddities, as well – such as the unwillingness of the authorities to get involved in her abduction because of the supposed power of the Aryan Brotherhood.  On the one hand, the notion that her accounts are disbelieved or discounted by the authorities is all too plausible (and to a minor degree, that's precisely what I'm doing here, albeit in response to an account mediated by a theatrical production, not a direct first-person plea), given how many other victims' accounts – too often, those of women – are ignored by those in power. 
On the other hand, the prison system wouldn't be filled with members of the Aryan Brotherhood if the authorities were, as Higginbotham's account seems to suggest, routinely either intimidated into giving them a pass, or sympathetic, or merely indifferent.  There are many such gaps and puzzlements in Higginbotham's account that don't, in sum, make me mistrust the veracity of her story as such but certainly make me want to learn more.  That's something that I wasn't able to do by means of Google, incidentally – and, again, that could mean any of a number of things, including the possibility that there are no independent accounts because Jim acted with complete impunity and thus left no official records of his crimes.
These nagging questions aside, Dana H's slide into a modern Motel Hell is a primal experience – not particularly edifying and certainly not inspiring – but sobering, though-provoking and, as the evening ends, curiously cleansing.  It's a highly recommended production that you will be talking about, and thinking about, for a long time after the applause subsides.