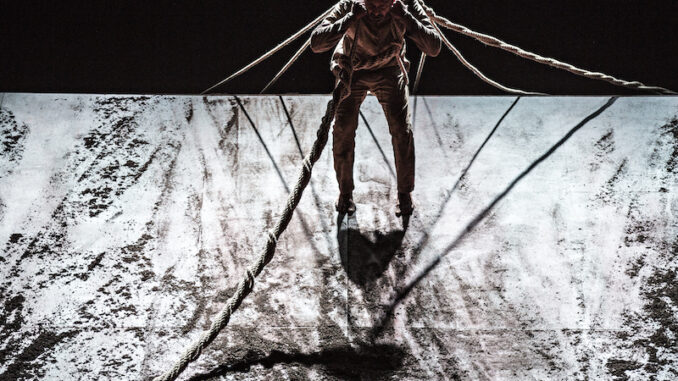 Created and performed by Akram Khan, XENOS gives voice to the shell-shocked dream of a colonial soldier in the First World War, revealing the beauty and horror of the human condition in its portrait of an Indian dancer whose skilled body becomes an instrument of war. Described as "a work of defining greatness" (The Guardian), XENOS will make just two stops in the US this fall (the Harris and John F. Kennedy Center for the Performing Arts), marking the final solo performances of Khan's celebrated career.
As one of the most celebrated and respected dance artists today, Khan is known for his intelligently crafted storytelling and intimate and epic works. In just over 18 years he has created a body of work that has contributed significantly to the arts in the UK and abroad, built on the success of imaginative, highly accessible, and relevant productions.
In this "triumph of energy, empathy and intelligence" (Telegraph UK), Khan is accompanied onstage by five international musicians: percussionist BC Manjunath, vocalist Aditya Prakash, bass player Nina Harries, violinist Clarice Rarity, and saxophonist Tamar Osborn.
Read more about XENOS and Khan's reflections on this pivotal moment in his career in this 2018 feature, and don't miss your chance to see XENOS on the Harris stage, November 12 and 13. Tickets start at just $35.
Want to learn more about Akram Khan? Check out the fifth episode of the Netflix series, Move, for an intimate look at his personal story and career as a dancer, choreographer, and storyteller.
A highlight of the 2021-22 HTP Mainstage dance season will be the international premiere and exclusive North American presentation of English National Ballet in Akram Khan's Creature. Khan himself will open the dance season with his solo work XENOS — marking some of his final performances of the Olivier Award-winning piece as a dancer. Ragamala Dance Companywill return to Chicago with the company's newest work, Fires of Varanasi: Dance of the Eternal Pilgrim, co-commissioned by the Harris.
Akram Khan is celebrated for physically demanding, visually arresting solo productions that combine Indian kathak with contemporary dance to tell stories through movement. XENOS conjures the despair and alienation suffered by an Indian soldier recruited to fight for the British Crown in the trenches of World War I.
The word "xenos" means "stranger" or "alien" in Greek, and in this emotionally visceral work, Khan explores the beauty and horrors of the human condition from the perspective of an Indian soldier trapped between two cultures in the colonial system. An estimated 1.5 million Indians fought and died for European and American Armies during World War I. Khan, who is British and of Bangladeshi descent, has said that he was profoundly affected by his discovery of this dark chapter of British-Indian history, which inspired his tale of an Indian dancer forced to transform his skilled body into an instrument of war.
As an instinctive and natural collaborator, Khan has been a magnet for world-class artists from other cultures and disciplines. His previous collaborators include the National Ballet of China, actress Juliette Binoche, ballerina Sylvie Guillem, singer Kylie Minogue, writer Hanif Kureishi, and composer Steve Reich.
Khan has, in just over 18 years, created a body of work that has contributed significantly to the arts in the UK and abroad. His reputation has been built on the success of imaginative, highly accessible, and relevant productions such as Until the Lions, Kaash, iTMOi (in the mind of igor), DESH, Vertical Road, Gnosis, and zero degrees.
These performances will be among Akram's last as a solo dancer, and the Harris is one of just two US stops (along with the Kennedy Center) in this final tour.
Photos are courtesy of Akram Khan XENOS © Jean Louis Fernandez