Run, don't walk, to get tickets for "Paradise Square" now playing at Chicago's James M. Nederlander Theatre (24 W. Randolph). You won't want to miss this limited engagement through December 5, 2021. it heads to New York, beginning previews February 22, 2022 at Broadway's Barrymore Theatre (243 West 47th Street), where it opens March 20, 2022.
TICKET INFORMATION:
Individual tickets for Paradise Square are on sale for performances through December 5, 2021. Tickets are available for groups of 10 or more by calling Broadway In Chicago Group Sales at (312) 977-1710. For more information or tickets, visit www.BroadwayInChicago.com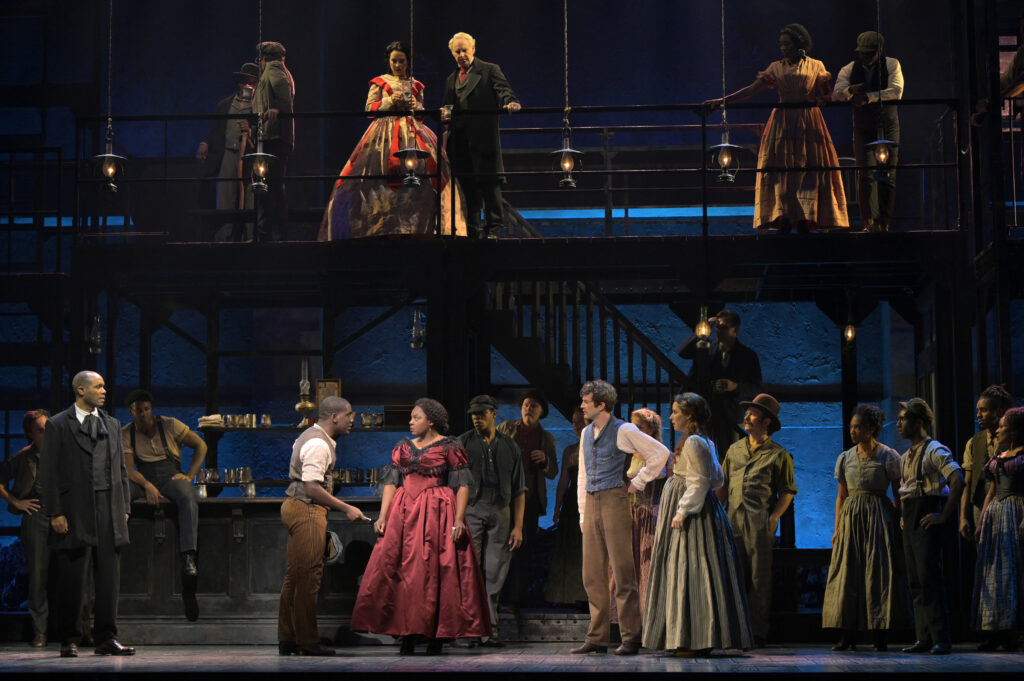 I could not wait to see this musical. I missed an invitation to see it in California, where it began.
On my last visit to the Bay Area where I was staying during the winter, it was 2019 and I was invited to review a new musical at Berkeley Rep, " "Paradise Square: An American Musical." It was intriguing and I wanted to go but my husband was ill and I could not see it. It was not long before the pandemic set in and the world changed.
During the shutdown, this musical was polished and made ready to be the first new musical to appear on Broadway since the pandemic. Check for a description of the way in which this production relates to the history of the Five Points section of Manhattan.
From the San Francisco Chronicle
At the very beginning, the songs of Steven Foster were the inspiration for the story. (From an article in Datebook from 2018)
"At one point in the show's early life, when it was still "Hard Times," Kirwan had a white guy in blackface come out and sing "Camptown Races" to a hip-hop beat. "My wife told me I was crazy," Kirwan recalls. "But that's how we did it, and people accepted it."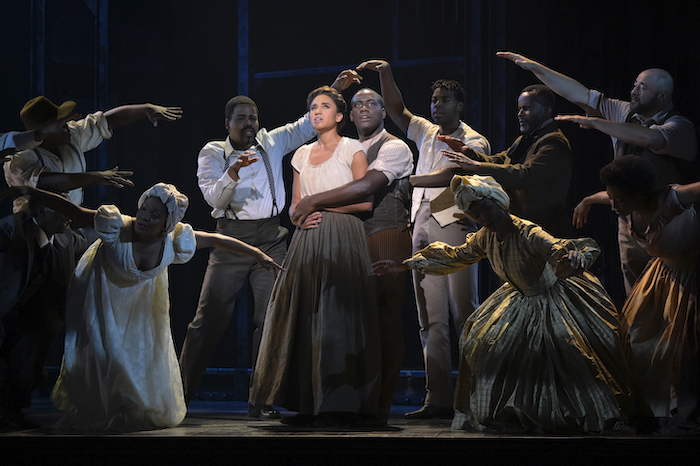 The result, four years later, is "Paradise Square: An American Musical," having its world premiere at Berkeley Rep on Jan. 10 after three weeks of previews."
Michael Paulson in the NY Times, July 30, 2021
"The show, which has been reworked and in development for a decade, is about a long-gone slum in Lower Manhattan, Five Points, where, during the run-up to the Civil War, free Black residents and Irish immigrants coexisted until the draft riots of 1863.
The show has a complex production history and an evolving creative team, led by the director Moisés Kaufman (best known as the creator of "The Laramie Project") and the choreographer Bill T. Jones (a two-time Tony winner, for "Fela!" and "Spring Awakening"). It is based on a musical called "Hard Times," which was conceived by Larry Kirwan, the lead singer of Black 47, and staged at the Cell Theater in 2012. Then, as "Paradise Square," it had a production at Berkeley Repertory Theater in 2019, and this fall, before transferring to Broadway, it is scheduled to have a five-week run at the James M. Nederlander Theater in Chicago.
Kaufman said the interruption of the pandemic provided the creative team "an opportunity to think."
"At Berkeley we learned that our story is epic, but we needed to continue focusing on our individual characters," he said. "And that's the work that's occurred."
A description of the Five Points section of Manhattan.
Taking our seats having shown our vaccinations cards and wearing our masks, the atmosphere in the theater was electric as we settled to watch this show.
For many years, Irish immigrants escaping the devastation of the Great Famine settled alongside free-born Black Americans and those who escaped slavery, arriving by means of the Underground Railroad. The Irish, relegated at that time to the lowest rung of America's social status, received a sympathetic welcome from their Black neighbors (who enjoyed only slightly better treatment in the burgeoning industrial-era city). The two communities co-existed, intermarried, raised families, and shared their cultures in this unlikeliest of neighborhoods.
As the communities came together they were most exuberant in the raucous dance contests on the floors of the neighborhood bars and dance halls. It is here in the Five Points where tap dancing was born, as Irish step dancing joyously competed with Black American Juba.
This came to a sharp and brutal end when President Lincoln's need to institute the first Federal Draft to support the Union Army incited the deadly NY Draft Riots of July 1863. The riots were fueled by the fact that Irish immigrants were essentially drafted on arrival, while the Blacks who wanted to fight were not allowed to do so. after the riots and after the war, the community disintegrated.
Within this galvanizing story of racial harmony undone by a country at war with itself, we meet the denizens of a local saloon called Paradise Square: Nelly O'Brien (Joaquina Kalukango), the indomitable Black woman who owns it; Annie Lewis (Chilina Kennedy), her Irish-Catholic sister-in-law and her Black minister husband, Rev. Samuel Jacob Lewis (Nathaniel Stampley); Willie O'Brien (Matt Bogart), Nelly's Irish husband, who is off fighting for the Union army; Owen Duignan (A.J. Shively), a conflicted newly arrived Irish immigrant; Washington Henry (Sidney DuPont), a fearless freedom seeker; Frederic Tiggens (John Dossett), an anti-abolitionist political boss, and Milton Moore (Jacob Fishel), a penniless songwriter trying to capture it all. They have conflicting notions of what it means to be an American while living through one of the most tumultuous eras in our country's history.
The world premiere of Paradise Square was produced in January 2019 by Berkeley Repertory Theatre (Artistic Director, Tony Taccone; Managing Director, Susan Medak). The musical was originally conceived by Mr. Kirwan.
Watching the show, we were blown away, mesmerized. The cast is fantastic as is the staging, costuming and lighting. The songs roll out one after another, telling the story of this community. The dancing, what dancing, exciting, spell binding, memorable.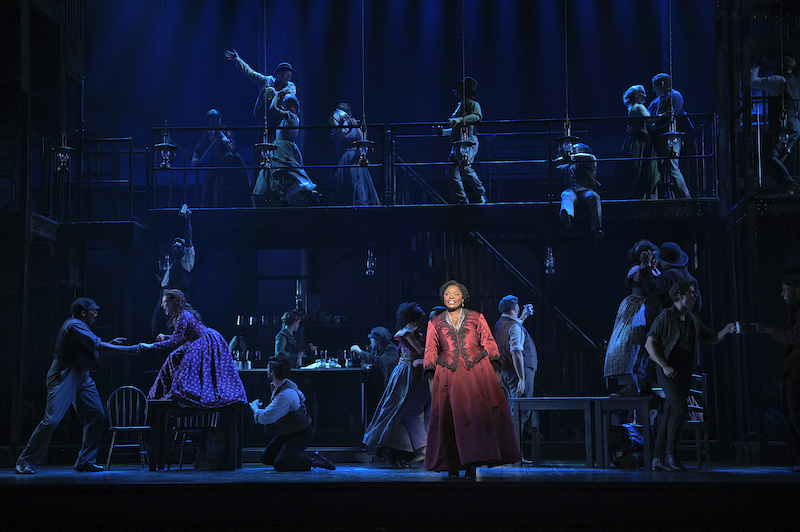 Joaquina Kalukango is from Atlanta, and a graduate of the Juilliard school, who is that triple threat; she dances, she inhabits the character of Nelly O'Brien, but it is her rendition of "Let it Burn" that brings down the house. Another song bouncing around in my head is, Chilina Kennedy as Annie Lewis, singing " Gentle Annie" and the theme song, "Paradise Square".
Don't let this show go off to Broadway without seeing it.